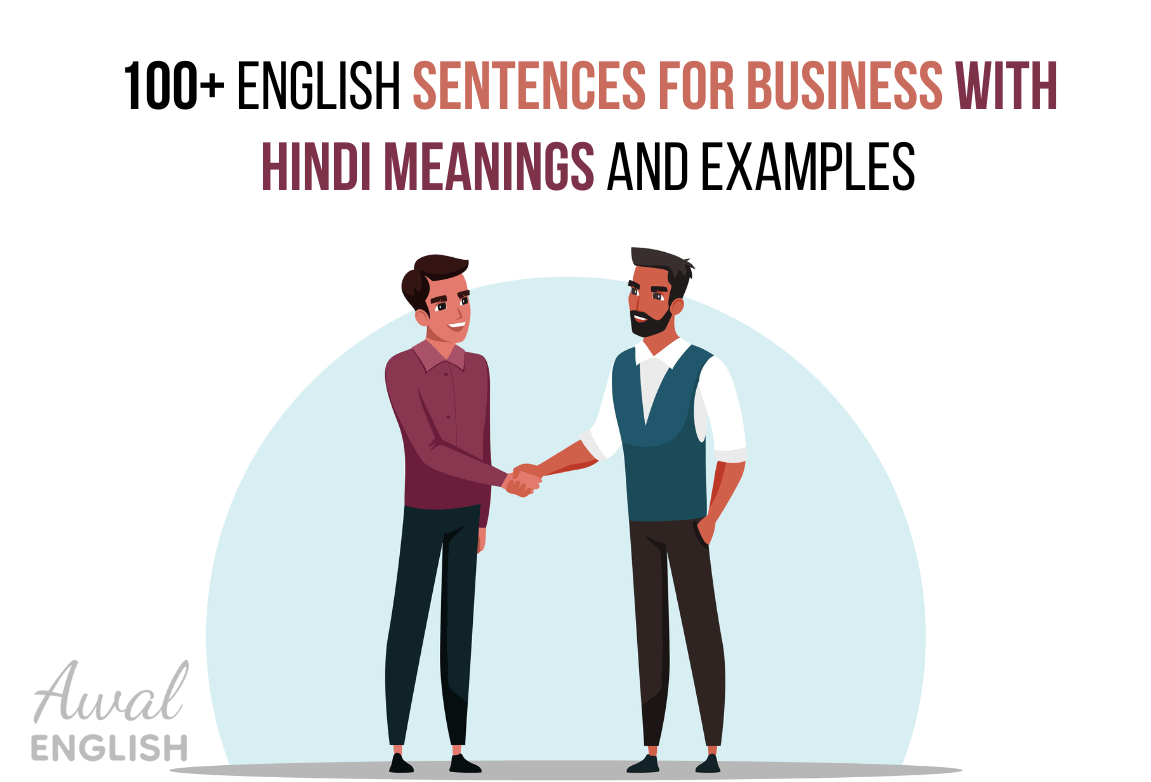 Kya aap bhi office mein logon se baat karne mein katrate hain? Kya aap bhi apni baat ko kehne ke liye ghanto mind mein sentences frame karte rehte hain? Toh yeh lesson aaapke liye sabse zyada helpful hone wala hai. Business ya workplace mein bahut saari choti-badi baatein hoti hai, aur wo conversations bahut zyada important banati hain. Bahut se log apni baaton ko English mein nahi keh paate hain ya conversation ke dauran atak jaate hain. In this lesson, we will talk about some English sentences for business with their Hindi meaning and examples that will help you with conversations in the workplace. Given below is a list of 100+ English sentences for business that will help you win the conversations at work. 
Akash is the sales rep of our company.
Akash humari company ka bikri pratinidhi hai.
आकाश हमारी कंपनी का बिक्री प्रतिनिधि है।
I'm Mr. Boseman's secretary; I'm calling from the International Trade Centre.
Main Mr. Boseman ka sachiv hoon; main international trade center se phone kar raha hoon. 
मैं मिस्टर बोसमैन का सचिव हूं; मैं इंटरनेशनल ट्रेड सेंटर से फोन कर रहा हूं।
How do you do? I am in charge of sales in India.
Aap kaise hain? Main bharat mein sales ka incharge hoon. 
आप कैसे हैं? मैं भारत में बिक्री का इंचार्ज  हूं।
This is our Sales manager, Mr. Gupta. 
Yeh hain humare sales manager, Mr. Gupta.
ये हैं हमारे सेल्स मैनेजर, मिस्टर गुप्ता।
Let me introduce you to my colleagues.
Aaiye main aaapko apne sehkarmiyon se milwata hoon. 
आइए मैं आपको अपने साथियों से मिलवाता हूं।
How long will you be staying here? 
Aap yahan kab tak rahoge?
आप यहाँ कब तक रहोगे?
You can give me a call by EOD. 
Aap mujhe din ke khatam hone tak call kar sakte hain. 
आप मुझे दिन के ख़त्म होने तक कॉल कर सकते हैं।
How can I get in touch with your manager?
Main aapke manager se kaise sampark kar sakta hoon?
मैं आपके मैनेजर से कैसे संपर्क कर सकता हूं?
They will visit our company first thing tomorrow. 
Wo kal sabse pehle humari company ka daura karenge. 
वे कल सबसे पहले हमारी कंपनी का दौरा करेंगे।
They sent us several inquiries for chinaware this month. 
Unhone humein iss mahine chini mitti ke bartan ki jaankari ke liye prashan bheje hain.
उन्होंने हमें इस महीने चीनी मिट्टी के बरतन की जानकारी के लिए प्रशन भेजे हैं।
Abhinav inquired about the possibility of importing directly from India. 
Abhinav ne bharat se seedhe import ki sambhavna ke baare mein poochtach ki.
अभिनव ने भारत से सीधे इम्पोर्ट की संभावना के बारे में पूछताछ की।
They promise that they will investigate this case. 
Vo vaada karte hain ki vo iss mamle ki jaanch karenge.
वे वादा करते हैं कि वे इस मामले की जांच करेंगे।
Right now, the demand exceeds supply in the market.
Abhi bazaar mein maang supply se jyada hai.
अभी बाजार में मांग आपूर्ति से ज़्यादा है।
We will receive new supplies of walnuts in a week. 
Hum ek saptah mein akhrot ki nayi supply prapt karenge.
हम एक सप्ताह में अखरोट की नई आपूर्ति  प्राप्त करेंगे।
The product is in short supply अब.
Utpaad ab kam supply mein hai.
उत्पाद अभी  कम आपूर्ति  में है।
What quantity can they supply?
Vo kitni matra mein supply kar sakte hain?
वे कितनी मात्रा में आपूर्ति कर सकते हैं?
Large quantities of spices have arrived.
Bhaari matra mein masale aa chukein hain.
भारी मात्रा में मसाले आ चुके हैं।
They have various selections of mobile making. 
Unke paas mobile banane ke kayi chayan hain.
उनके पास मोबाइल बनाने के कई चयन हैं।
The quality of these products is guaranteed. 
Inn utpadon ki quality guarantee hai.
इन उत्पादों की क्वालिटी की गारंटी है।
You can have a look at the brochure. 
Aap brochure dekh sakte hain.
आप ब्रोशर देख सकते हैं।
This brochure will give you a detailed introduction to the company and its products. 
Ye brochure aapko company aur uske utpaadon ka vistarit parichay dega.
यह ब्रोशर आपको कंपनी और उसके उत्पादों का विस्तृत  परिचय देगा।
We'll send a salesman with some demonstrations. 
Hum ek vikreta ko kuch pradarshanon ke saath bhejenge.
हम एक विक्रेता को कुछ प्रदर्शनों के साथ भेजेंगे।
I'm sure you will be interested in them. 
Mujhe yakeen hai ki aap unmein dilchaspi lenge. 
मुझे यकीन है कि आप उनमें दिलचस्पी लेंगे।
We offer excellent after-sale service to the customers. 
Hum grahakon ko umda bikri ke baad seva pradaan karte hain.
हम ग्राहकों को उम्दा बिक्री के बाद सेवा प्रदान करते हैं।
When would be a convenient time to call you?
Aapko vapas call karne ka suvidhajanak samay kab hoga?
आपको वापस कॉल करने का सुविधाजनक समय कब होगा?
I am not available now.
Main abhi uplabdh nahin hoon.
मैं अभी उपलब्ध नहीं हूं।
They don't trust telephone promotions.
Ve telephone prachar par bharosa nahi karte. 
वे टेलीफोन प्रचार पर भरोसा नहीं करते।
We offer free repair service within six months.
Hum 6 mahine ki avadhi ke bheetar muft marammat seva pradaan karte hain.
हम छह महीने की अवधि के भीतर मुफ्त मरम्मत सेवा प्रदान करते हैं।
The repair period is four months. 
Marammat ke avadhi chaar mahine hai.
मरम्मत की अवधि चार महीने है।
Please contact the Service Department if you have any problem regarding the product. 
Yadi aapko utpaad ke sambandh mein koi samasya hai toh kripya seva vibhaag se sampark karein.
यदि आपको उत्पाद के संबंध में कोई समस्या है तो कृपया सेवा विभाग से संपर्क करें।
The Service Department is located on the fourth floor. 
Seva vibhaag chauthi manzil par sthit hai.
सेवा विभाग चौथी मंजिल पर स्थित है।

The telephone number of our after-sale service is …….
Humari bikri se baad ki seva ka telephone number ……… hai.
हमारी बिक्री के बाद की सेवा का टेलीफोन नंबर …… है।
I can guarantee you there's no quality problem with our products. 
Main guarantee de sakta hoon ki humare utpadon ki quality ki koi samasya nahin hai.
मैं गारंटी दे सकता हूं कि हमारे उत्पादों में क्वालिटी की कोई समस्या नहीं है।
I'm sorry that you are not satisfied with our service. 
Mujhe khed hai ki aap humari seva se santusht nahi hai.
मुझे खेद है कि आप हमारी सेवा से संतुष्ट नहीं हैं।
I am grateful for your valuable suggestion. 
Aapke bahumulya sujhaav ke liye main abhaari hoon.
आपके बहुमूल्य सुझाव के लिए मैं आभारी हूँ।
We'll respond to your mail shortly. 
Hum sheeghra hi aapke mail ka uttar denge.
हम शीघ्र ही आपके मेल का उत्तर देंगे।
If you are interested, we'll offer it as soon as possible. 
Yadi aap ruchi rakhte hain, toh hum ise jald se jald pesh karenge.
यदि आप रुचि रखते हैं, तो हम इसे जल्द से जल्द पेश करेंगे।
Could you tell me something about your price?
Kya aap mujhe apni keemat ke baare mein kuch bata sakte hain?
क्या आप मुझे अपनी कीमत के बारे में कुछ बता सकते हैं?
We can offer you various kinds of Chinese lights at an attractive price.
Hum aapko akarshak keemat par vibhin prakar ki cheeni bulb pradaan kar sakte hain. 
हम आपको आकर्षक कीमत पर विभिन्न प्रकार की चीनी बल्ब प्रदान कर सकते हैं।
We are prepared to give you a quotation based on the current international market price.
Hum aaapko prachlit antarrashtriye bazaar mulya ke aadhar par ek quotation dene ke liye taiyaar hain.
हम आपको प्रचलित अंतरराष्ट्रीय बाजार मूल्य के आधार पर एक कोटेशन देने के लिए तैयार हैं।
The price we have fixed is firm for the EOD only. 
Humne jo keemat tay ki hai vo kewal din ke khatam hone tak hi hai.
हमने जो कीमत तय की है वह केवल दिन के ख़त्म होने तक ही है।
We have got another offer. 
Humein ek aur offer mila hai.
हमें एक और ऑफर मिला है।
I assure you that our price is the most favorable. 
Main aaapko ashvast karta koon ki humari keemat sabse anukool hai.
मैं आपको आश्वस्त करता हूं कि हमारी कीमत सबसे अनुकूल है।
According to the quantity of their order, we can negotiate the price. 
Unke order ki matra ke anusaar, hum keemat par baatcheet kar sakte hain.
उनके आदेश की मात्रा के अनुसार, हम कीमत पर बातचीत कर सकते हैं।
I hope you'll give it a second thought. 
Mujhe asha hai ki aap iske baare mein dobara sochenge.
मुझे आशा है कि आप इसके बारे में दोबारा सोचेंगे।
Unfortunately, we cannot accept your offer. 
Durbhagya se, hum aapke prastaav ko sweekar nahin kar sakte.
दुर्भाग्य से, हम आपके प्रस्ताव को स्वीकार नहीं कर सकते।
The prices are too high to accept.
Sweekar karne ke liye keematein bahut adhik hain.
स्वीकार करने के लिए कीमतें बहुत अधिक हैं।
I am amazed at the prices you have given us. 
Aapne humein jo keemat di hai, usse main hairaan hoon.
आपने हमें जो कीमत दी है, उससे मैं हैरान हूं।
The prices you have put forward are just not within striking range.
Aapne jo keemat aage rakhi hain, vo seema ke bheetar nahin hain.
आपने जो कीमतें आगे रखी हैं, वे सीमा के भीतर नहीं हैं।
If the quantity of your product is considerably large, we can offer you a discount of 5%. 
Yadi aapke utpaad ki matra kaafi adhik hai, toh hum aapko 5% ki chhoot pradaan kar sakte hain.
यदि आपके उत्पाद की मात्रा काफी अधिक है, तो हम आपको 5% की छूट प्रदान कर सकते हैं।
The price of this bag on Flipkart is a little cheaper than the market price. 
Flipkart par iss bag ki keemat bazaar keemat se thodi kam hai.
फ्लिपकार्ट पर इस बैग की कीमत बाजार कीमत से थोड़ी कम है।
What is the fixed price for this lipstick?
Iss lipstick ki nirdharit keemat kya hai?
इस लिपस्टिक की निर्धारित कीमत क्या है?
How much is the price for this product?
Iss utpaad ka mulya kitna hai?
इस उत्पाद का मूल्य कितना है?
Can you please break the price down as low as possible?
Kya aap kriya keemat ko jitna sambhav ho utna kam kar sakte hain?
क्या आप कृपया कीमत को जितना संभव हो उतना कम कर सकते हैं?
As per the introductory line, we accept a price reduction of 4% only.
Introductory line ke anusaar, hum kewal 4% ki kami keemat mein sweekar karte hain.
इंट्रोडक्टरी लाइन के अनुसार, हम केवल 4% कमी की कीमत में स्वीकार करते हैं।
We are glad that we have come to an agreement on the price.
Humein khushi hai ki hum keemat par ek samjhaute par aa gaye hain.
हमें खुशी है कि हम कीमत पर एक समझौते पर आ गए हैं।
Finally, you agreed to the terms of this contract.
Ant mein, aap iss contract ki sharton se sehmat huye.
अंत में, आप इस कॉन्ट्रैक्ट की शर्तों से सहमत हुए।
They agreed that the prices of this service are workable. 
Ve iss baat par sehmat huye ki iss seva ki keematein kaam karne yogya hain.
वे इस बात पर सहमत हुए कि इस सेवा की कीमतें काम करने योग्य हैं।
We have ordered 1000 sets of this product. 
Humne iss utpaad ke 1000 set ka order diya hai.
हमने इस उत्पाद के 1000 सेट का ऑर्डर दिया है।
They'll pay by cheque next week. 
Ve agle saptah cheque se bhugtan karenge.
वे अगले सप्ताह चेक से भुगतान करेंगे।
Would you mind filling out the order list?
Kya aap order list bhar denge?
क्या आप ऑर्डर सूची भर देंगे?
Your prices are workable, we accept them. 
Apki keematein kaam karne yogya hai, hum unhe sweekar karte hain.
आपकी कीमतें काम करने योग्य हैं, हम उन्हें स्वीकार करते हैं।
We have started our delivery service today.
Humne aaj apni delivery seva shuru kar di hai.
हमने आज अपनी डिलीवरी सेवा शुरू कर दी है।
Your order must be delivered within six working days.
Apka order 6 karya divason ke bheetar deliever kiya jana chahiye.
आपका ऑर्डर छह कार्य दिवसों के भीतर डिलीवर किया जाना चाहिए।
Please explain us about your payment terms.
Kriya humein apni bhugtan sharton ke baare mein batayein.
कृपया हमें अपनी भुगतान शर्तों के बारे में बताएं।
We haven't received any payment from L/C even today.
Humein aaj bhi L/C se koi bhugtaan nahi mila hai.
हमें आज भी एल/सी से कोई भुगतान नहीं मिला है।
Please let us know the L/C number.
Kripya humein L/C number batayein.
कृपया हमें एल/सी नंबर बताएं।
Our credit is valid until January 15th.
Humara credit 15 January tak vaidh hai.
हमारा क्रेडिट 15 जनवरी तक वैध है।
We are ready to accept the payment.
Hum bhugtan ko sweekar karne ke liye taiyaar hain.
हम भुगतान को स्वीकार करने के लिए तैयार हैं।
If we want, we can make payment for this order by documentary collection. 
Hum chahein toh dastavez sangrah dwara order ka bhugtaan kar sakte hain.
हम चाहें तो दस्तावेज संग्रह द्वारा इस आर्डर का भुगतान कर सकते हैं।
They have to pay a higher price now. 
Unhe ab jyada keemat chukani hogi.
उन्हें अब ज्यादा कीमत चुकानी होगी।
Shipment in May-June will get damaged by heat in Temperate areas. 
Temperate kshetron mein May-June mein shipment ko garmi se nuksaan ho jayega.
टेम्परेट क्षेत्रों में मई-जून में शिपमेंट को गर्मी से नुक्सान हो जाएगा।
We hope this will not give you any inconvenience. 
Hum aasha karte hain ki isse aaapko koi asuvidha nahin hogi.
हम आशा करते हैं कि इससे आपको कोई असुविधा नहीं होगी।
Shipping this parcel may involve extra charges. 
Iss parcel ki shipping mein atirikt shulk shaamil ho sakte hain.
इस पार्सल की शिपिंग में अतिरिक्त शुल्क शामिल हो सकते हैं।
There is a huge demand for umbrellas here. 
Yahan chhate ki kaafi demand rehti hai.
यहां छाते की काफी डिमांड रहती है।
This product is very much in demand in this area. 
Iss kshetra mein iss utpaad ki bahut maang hai.
इस क्षेत्र में इस उत्पाद की बहुत मांग है।
This product will be procured on a demand basis. 
Yeh utpad maang ke aadhar par kharida jayega.
यह उत्पाद मांग के आधार पर खरीदा जाएगा।
Shall we discuss the terms of the payment now?
Kya ab hum bhugtan ki sharton par charcha karein?
क्या अब हम भुगतान की शर्तों पर चर्चा करें?
Can you tell us about your collecting terms?
Kya aap humein apni ekatrit sharton ke baare mein bata sakte hain?
क्या आप हमें अपनी एकत्रित शर्तों के बारे में बता सकते हैं?
What are your default terms of payment?
Aapke bhugtaan ki default shartein kya hai?
आपके भुगतान की डिफ़ॉल्ट शर्तें क्या हैं?
I'm glad we are likely to conclude our first transaction with you soon. 
Mujhe khushi hai ki hum jald hi aapke sath apna pehla len-den poora karne wale hain.
मुझे खुशी है कि हम जल्द ही आपके साथ अपना पहला लेन-देन पूरा करने वाले हैं।
This practice is widely used in the international market. 
Yeh pratha antarrashtriye bazaar mein vyapak roop se upyog ki jaati hai.
यह प्रथा अंतरराष्ट्रीय बाजार में व्यापक रूप से उपयोग की जाती है।
What money would you like to change?
Aap kis paise ko badalna chahenge?
आप किस पैसे को बदलना चाहेंगे?
What's the exchange rate of the US dollar against the Russian Ruble?
Russian Ruble ke muqable American Dollar ka exchange rate kya hai?
रूसी रूबल के मुकाबले अमेरिकी डॉलर की एक्सचेंज रेट  क्या है?
What is the price of per gram gold today?
Aaj prati gram sone ki keemat kya hai?
आज प्रति ग्राम सोने की कीमत क्या है?
Please fill in your name on the cheque.
Kripya cheque par apna naam bharein.
कृपया चेक पर अपना नाम भरें।
The US dollar is a convertible currency in the international market. 
American Dollar antarrashtriye bazaar mein ek parivartaniye mudra hai.
अमेरिकी डॉलर अंतरराष्ट्रीय बाजार में एक परिवर्तनीय मुद्रा है।
Please provide me with the receipt for the money I am paying you.
Kripya mujhe uss paise ki raseed pradan karein jo main aapko de raha hoon.
कृपया मुझे उस पैसे की रसीद प्रदान करें जो मैं आपको दे रहा हूं।
This is my tax memo, passport, and other documents.
Yeh mera tax memo, passport aur anya dastavez hain.
यह मेरा टैक्स मेमो, पासपोर्ट और अन्य दस्तावेज हैं।
I'd like to open an account in this bank.
Main iss bank mein khata kholna chahta hoon.
मैं इस बैंक में खाता खोलना चाहता हूं।
We have opened a current account and a savings account in different banks. 
Humne alag-alag bankon mein ek current account aur ek savings account khola hai.
हमने अलग-अलग बैंकों में एक करंट अकाउंट और एक सेविंग्स अकाउंट  खोला है।
I would like to close my current account in that bank. 
Main uss bank mein apna chalu khata band karna chahoonga.
मैं उस बैंक में अपना चालू खाता बंद करना चाहूंगा।
Their account history shows their withdrawal is more than their deposits. 
Unke khaate ke itehaas se pata chalta hai ki unki nikaasi unki jama rashi se adhik hai.
उनके खाते के इतिहास से पता चलता है कि उनकी निकासी उनकी जमा राशि से अधिक है।

The bank charges a 6.5% interest rate on all the money borrowed. 
Bank udhaar liye gaye sabhi paise par 6.5% byaaj dar leta hai.
बैंक उधार लिए गए सभी पैसे पर 6.5% ब्याज दर लेता है।
The bank has increased the interest rate on loan from 4.5% to 5.5%. 
Bank ne karz par byaaz dar 4.5% se badhakar 5.5% kar diya hai.
बैंक ने कर्ज पर ब्याज दर 4.5% से बढ़ाकर 5.5% कर दी है।
It is better to not withdraw the funds before the maturity date of the certificate. 
Pramanpatra ki maturity ki tareekh se pehle paison ko nikalna behtar nahi hai.
प्रमाणपत्र की मैच्युरिटी की तारीख़ से पहले पैसों को निकालना बेहतर नहीं है।
Akash's insurance policy has matured. 
Akash ki beema policy mature ho chuki hai.
आकाश की बीमा पॉलिसी  हो चुकी है।
Arun must be back in accordance with the contract. 
Arun ko contract ke anusaar vapas aana chahiye.
अरुण को कॉन्ट्रैक्ट के अनुसार वापस आना चाहिए।
The weight of the boxes is light, so the expenses can be saved.
Bakson ka wazan halka hota hai, isliye kharche bachaye jaa sakte hain.
बक्सों का वजन हल्का होता है, इसलिए खर्चे बचाये जा सकते हैं।
We have wrapped all the boxes in polythene in case of rain. 
Baarish hone ki sthiti mein humne sabhi bakson ko polythene mein lapet diya hai.
बारिश होने की स्थिति में हमने सभी बक्सों को पॉलीथिन में लपेट दिया है।
All the boxes are packed in shockproof cardboard inside. 
Sabhi box andar shockproof cardboard mein pack kiye gaye hain.
सभी बॉक्स अंदर शॉकप्रूफ कार्डबोर्ड में पैक किए गए हैं।
We should get our company's name and logo printed on the carry bags. 
Humein carry bag par apni company ka naam aur logo print karwana chahiye.
हमें कैरी बैग पर अपनी कंपनी का नाम और लोगो प्रिंट करवाना चाहिए।
Conclusion
Inn 100+ English sentences for business ki help se aapko bahut zyada help milne wali hai. Office mein chahe work-related conversations ho ya casual conversations ho, these English sentences for business will help you ace everywhere. Agar aap apne professional communication skills ko aur bhi polish karna chahte hain, ya professional  English mein excel karna chahte hain, toh aap join kar sakte hain Awal sir ka Professional English Course. Iski help se aap clients ko handle karna, emails likhna, presentation dena, sab kuch seekh sakte hain, vo bhi bahut easily.