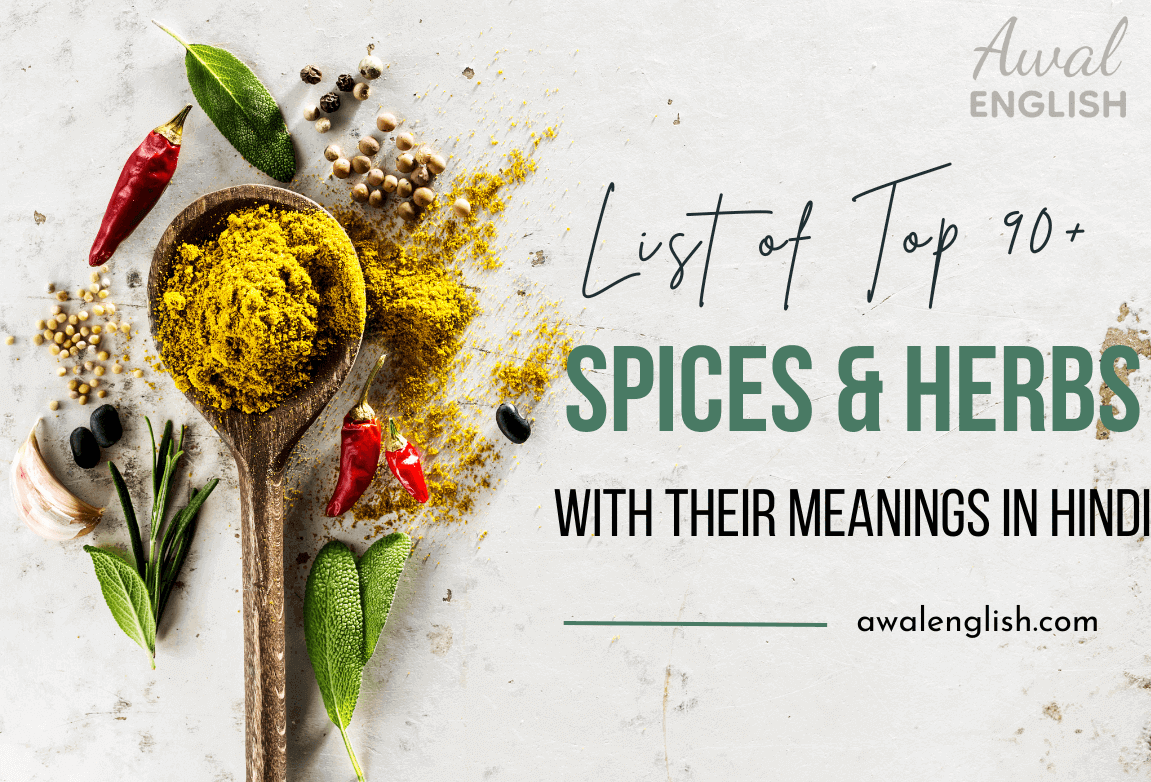 Spices improve the taste of food and have a high content of vitamins B and C, iron, calcium, along with some antioxidants. Spices are drawn from different parts of plants like bud, bark, root, flower, and fruits. These days spices are used across several industries including medical, cosmetic, pharmaceutical, aromatic and perfumery. Spices also improve the taste and flavour of the food. They also add flavours to dishes that again, enhances their complexity and complements or might even play counterpoint to the other flavours that are already present.
Different Spices with Their Hindi Meanings
Black peppercorns- काली  मिर्च 

Ground cinnamon

–

अमीन  दालचीनी

Clove- लौंग

Coriander Powder- धनिया  पाउडर

Cumin Seeds- जीरा

Garlic- लहसुन 

Green Cardamom- छोटी  इलाइची

Bay Leaf – तेज  पत्ता

Capers-  कचरा , करेर

Black Sesame- काली  तिल

Black Salt- कला  नमक

Black Cumin – कला  जीरा

Black Cardamom- काली  इलाइची

Basil Seeds- तुलसी  के  बीच

Basil Leaves- तुलसी  के  पत्तिया

Asafoetida- हींग

Yeast- खमीर

White Sesame Seeds- सफ़ेद  तिल

White Pepper- सफ़ेद  मिर्च

Turmeric Powder- हल्दी  पाउडर

Thyme- अजवाइन  के  फूल

Star Anise- चक्र  फूल

Salt- नमक

Sago- साबूदाना

Saffron- केसर

Rosemary – गुल  महानदी

Red chilli Powder- लाल  मिर्च  पाउडर

Poppy Seeds- खास  खास

Pomegranate- अनार  के  बीज  का  पाउडर

Pine Nuts-  चिलगोज़ा 

Paprika- लाल  शिमला  मिर्च

Oregano – अजवाइन  के  पत्ते

Onion Powder- प्याज़  पाउडर

Nutmeg- जायफल

Niger- रामतिल

Nigella Seeds- कलोंजी

Mustard Seeds- सरसो राइ

Fenugreek Seeds-  मेथी  बीज

Mace – जावित्री

Long Pepper- पीपली

Licorice-  मुलेठी

Madder- मजीठ

Ginger Powder- अदरक  पाउडर

Gallnut-  माजूफल

Flax Seeds- अलसी  के  बीज

Fennel Seeds-  सौंफ

Dry mint- सूखा  पुदीना

Dry Mango Powder- अमचूर  पाउडर

Dry Gooseberry- सूखा अमला

Dry Fenugreek leaves- मेथी  के  सूखे  पत्ते

Dry Coconut powder- नारियल  का  बुरादा

Curry Leaves- करि  पत्ते

Cashew Nut- काजू

Celery salt- अजमोद  नमक

Cayenne Pepper- तेज़  लाल  मिर्च

Cream of Tartar- शोधित  अर्गल

Dill pickle- ककड़ी  का  अचार

Aniseeds- सौंफ

Garcinia Indica- कोकुम

Mulling Spices- मालिंग  मसाला

Mustard Powder- सरसो  का  पाउडर

Hungarian sweet paprika- लाल  मिर्च

Red Pepper- लाल  शिमला  मिर्च

Star Fruit- सटरफल

Sea Salt- समुद्र  नमक

Wattle Seed- जंगली  बीज

Cilantro- धनिया 

Coconut Powder- नारियल  पाउडर 

Guajillo Chile Powder

– गुअजिलो  चिली पाउडर

Himalayan Pink Salt

– गुलाबी  नमक

Makrut Lime Leaves

– काफिर  लाइम

Maple Sugar

–  मैपिल  का  चीनी

Marjoram- कुठारा

Jaggery- गुर

Pine Nuts: चिलगोज़े

Raisins- किशमिश

Screwpine- केवरा

Sichuan Pepper- तिमूर

Sultanas- मुनक्का

Sichuan chilli- तिमूर

Vinegar-  सिरका

Watermelon seeds- तरबूज  के  बीज

Swertia- चिरायता

Gum Tragacanth- गौंड

Myrobalan- हॉरर

Cornflour- अरारोट

Dyer alkanet- लाल  जारी

Alum –

फिटकरी

Ajinomoto- अजीनोमोटो

Chia seeds – सब्ज़ा

Tarragon- नाग  दौना

Parsley Salt- अजमोद  नमक

Barley – जाऊ

Nut- अखरोट

Linseed- अलसी  का  बीज

Semolina- सूजी

Lemon salt-  तात्री

Dyer's Alkanet- रतनजोत

Four Seeds- चारो  मगज

Indian Gooseberry- सूखा  अमला

List of 100+ spices and their uses
Black Peppercorns – Kali Mirch
You can use black peppercorn to flavor meats along with poultry, fish as well as seafood. This can also be used to flavour the vegetables, stews, sauces, baked goods soups, dressings, marinades and several other foods. This also helps in clearing the respiratory tract congestion, fighting cancer, reduces arthritis, prevents certain conditions like diabetes, high blood pressure, and cardiovascular disease, improves digestion, reduces constipation, heals gum and tooth issues, improves mood, and also guards against melancholy.
Ground Cinnamon – Jameen Daalacheenee
Cinnamon is a spice, you can sprinkle on toast and also the lattes. These have also been used in traditional medicine across the globe for thousands of years. This is also used in cooking and baking, and this is also added to many foods.
Clove – Laung
Clive is used for flavouring in the foods and beverages. Clove is also used in toothpaste, soaps, cosmetics, perfumes, and cigarettes. Clove cigarettes only contain 60% to 80% tobacco and the rest 20% to 40% is ground clove.
Coriander Powder – Dhaniya Powder
Coriander powder is quite popularly used in south Indian preparations. This is especially true for certain dishes like rasam, kara kuzhambu, vegetable preparations, etc. This is also quite an essential ingredient that can be used in many curries and gravies as it has a very mild aroma that instigates the appetite. If you add ground coriander to pancake and waffle, this mix imparts a pleasing taste to it.
Cumin Seeds – Jeera
Cumin seeds contain thymol and essential oils. These stimulate the salivary gland that helps in easy digestion. People who have a weak digestive system are recommended to drink jeera water early in the morning on empty stomach. This improves digestion by decreasing flatulence.
Garlic – Lehsun
Garlic is wonderful for the heart and circulatory system. Garlic also has an antimicrobial, antiviral and antifungal function. This can help in relieving common cold and other viral infections. To boost the immune system, you can have a clove of garlic every day. This is the best anti-viral food.
Green Cardamom – Choti Ilaichi
Green cardamom is often used in traditional Indian sweets and also in masala chai. This is also at times used to garnish basmati rice and other dishes. At times, the individual seeds are chewed and these are used in much the same way as chewing gum.
Bay Leaf – Tej Patta
Indian Bay leaves are also known as Tej Patta. This is a 'pungent leaf' or Malabar leaf. Make sure not to confuse these with the European Laurel Bay leaves that are more common in the Mediterranean cuisine
Capers – Kachra, Karer
You can simply add these to salads that might include pasta, chicken, and potato salads. You can also use these as a condiment or even use them finely chopped for garnishing, dressings and sauces. These are also cooked with roasted vegetables and are used in a variety of main dishes and at times also used as pizza topping.
Black Sesame – Kali Teel
You can simply sprinkle this on salads and vegetables. You can also add this to noodle and rice dishes. You can also use these seeds to bake goods or even prepare a crunchy coating for preparing fish. You can easily process the black sesame seeds into a milk or tahini paste. Moreover, the black sesame seed oil can also be used similar to the way any other oil is used.
Black Salt – Kala Namak
Black salt stimulates the production of bile in the liver. This also helps in controlling the heartburn and bloating. It restricts the levels of acid formation and also reduces reflux. If you take just a pinch of salt, this can help in reducing the formation of gases and also reduce bloating and flatulence.
Black Cumin – Kala Jeera
Black cumin seeds were used in some of the traditional herbal systems and this also reduces the various ailments that include different airway disorders, chronic headache and back pain, diabetes, paralysis, infection, inflammation, hypertension, as well as digestive tract related issues.
Black Cardamom- Kali Illaichi
You can use the black cardamom in soups, casseroles, chowders, and marinades for a smoky flavor. This also goes very well with rice puddings, ginger fig chutney, cakes, payasam etc. You can also use black cardamom for preparing garam masala. This is very commonly used to flavour Indian curries, snacks and also the different rice preparations. 
Basil Seeds – Tulsi Ke Beej
These are quite effective when you consume them after you keep them soaked in water for some time. Once these seeds remain soaked in water, for some time, it makes them translucent and also quite soft. If you use basil seeds for weight loss, you should soak one/two teaspoons of the seeds in a cup full of warm water and after that you can consume them directly after fifteen minutes
Basil Leaves- Tulsi Ke Pattiya
Basil is used to treat stomach spasms, intestinal gas, certain kidney conditions, head colds, loss of appetite, fluid retention, warts , and worm infections. This is also highly effective in treating snake and insect bites. At times, women tend to use basil before and after childbirth as Basil helps in better blood circulation. This also helps in starting the flow of breast milk.
Asafoetida- Hing
Asafoetida is also a flavouring agent. This also forms a constituent of several mixes of spice. This is used to flavour, dal, meat balls, curry and prickle. You can also use this entire plant as a fresh vegetable. You can also use this herb is also used as an antidote of opium
Yeast- Khamir
Yeasts also have a wide range of applications mainly in food industry and this includes wine making, brewing, distilled spirits production, as well as baking. 
White Sesame Seeds- Safed Teel
Sesame seeds are quite rich in protein, vitamins and minerals. These also have antioxidant properties. These provide a nutty flavour and a crunchy texture to certain foods. Sesame seeds are also used in medicines.
White Pepper- Safed mirch
White pepper contains a chemical that is called piperine. This reduces the pain, improve breathing, and also reduce inflammation. Piperine also improves the functioning of the brain. The ripe seeds are cooked and they are then dried to form the white pepper. At times, people also take white pepper by mouth in case they have an upset stomach, malaria, a bacterial infection that might cause diarrhea (cholera), and cancer. People also apply white pepper to the skin that helps in reducing the pain. White pepper is also added to foods and drinks.
Turmeric Powder- Haldi Powder
Haldi powder was traditionally used to treat certain disorders of the skin, upper respiratory tract, joints, as well as the digestive system. Today, turmeric is promoted as a dietary supplement that helps in treating various conditions, that includes arthritis, respiratory infections, allergies, digestive disorders, liver disease, depression, and many others.
Thyme- Ajwain Ke Phool
Some of the most traditional remedies that are associated with thyme include alleviation of depression, nightmares, epilepsy, and headaches and treatment of coughs. This is an antioxidant and also has anti-inflammatory, respiratory, along with some neurological benefits. This is commonly used to season soups, sauces, as well as braises. You can also add these to potatoes, rice dishes, vegetables and even fresh bread. This also pairs very well with other Mediterranean herbs like oregano and marjoram. This is used across Italian, French, and Mediterranean cooking.
Star Anise- Chakra Phool
This was traditionally used as a spice in food, and was also used as a medicine. Star anise seeds contain chemicals that also have antibacterial effects. These also contain a chemical called shikimic acid. This is used to prepare oseltamivir (Tamiflu), which is a flu treatment.
Though this is sweet but it was traditionally used in savory recipes, particularly with meats. This was also added to soups, stews and also braising broths, to which this also adds a sweet-licorice-peppery flavor. You can either use it whole or you can also use ground star anise.
Salt- Namak
Since a very long tme, salt have been used for flavouring and it also helps in preserving food. There is sodium, magnesium, potassium, and calcium in sea salt.  All of these minerals are needed to maintain optimal health. These minerals have to come from your diet as your body will not be able to create them. If you do not have sufficient electrolytes there is a possibility of you experiencing irregular heartbeat, fatigue, nausea, and even seizures.
Sago- Sabudana
Sago is used in a few different ways. This is used as a thickener, for baking, and this is also used in desserts such as puddings. You can use it to form a pan cake.
Saffron- Kesar
Saffron is a plant and the dried thread-like parts of the flower are used to make saffron spice, food coloring, and medicine. Saffron contains certain chemicals that help in altering the mood, kill cancer cells, decrease swelling, and also acts like antioxidants.
Rosemary – Gul Mahandi
This leaf and the oil is most commonly used in food and this is also used to make medicine. When applied to the scalp, Rosemary oil increases the blood circulation, which helps in a better growth of the hair follicles. Rosemary extract also protects the skin from sun damage. Rosemary is also used as a spice for the Mediterranean dishes. Traditionally, rosemary was used medicinally to improve memory.
Red Chilli Powder- Lal Mirch Powder
You can use the red chilli powder anywhere you want. This will add a bit of a kick to your food. This is most commonly used in Latin American dishes like tacos or enchiladas. You can also add this to chilis, stews, soups, meats, and beans.
Chilli powder is also very commonly used in Indian cuisine to make foods spicier. If this is used in moderation, this adds a lovely red glow and sharp flavour to dishes. You can add this to any pot of beans or with baked corn and casseroles. You can also use this to make marinades for paneer or sliced vegetables.
Poppy Seeds- Khas khas
For making cakes, pastries, porridge, glaze, or filling, you can use poppy seeds.
Pomegranate Powder – Anar Ke Beej Ka Powder
You can add the Pomegranate powder to curries, lentils as well as the vegetable dishes to give tangy taste. You can also add this to the North Indian dishes like Chole and Tadka Dal. Pomegranate powder can also be used to flavour soups and stews. You can also use this powder to flavour biryanis and kebabs.
Pine Nuts- Chilgoje
You can use these to flavor chameleon, which is a main ingredient in desserts like tarts, cookies, and brittles along with some savory dishes. The best way to use pine nuts is in the starter course. You will have to mix them into dips for crudité, frying into finger foods, or you can also pair this with beef in empanada fillings
Paprika- Laal Shimla Mirch
Paprika is used in the more savoury applications such as sauces, marinades, spice blends as well as coatings. This is most commonly found in confectionery applications. Paprika is a mellow ingredient that brings beautiful color and also a hint of sweetness. You will find this in everything starting from barbecue sauce, prepared rubs and marinades to the Italian sausage, potato casseroles, cream sauces as well as some egg dishes.
Oregano – Ajwain Ke Patte
Oregano can be used in the tomato-centric recipes. Some of these include pizza and pasta sauce. This is also used in the olive oil-based dishes. Oregano is also combined with olive oil to create flavorful oregano oil. This oil can be used to marinade lamb, chicken, and beef dishes along with Italian vinaigrettes.
Onion Powder- Pyaz Powder
Onion powder is used as a seasoning to several foods and dishes that include pasta, pizza, and grilled chicken. This is also the most important ingredient in beau monde seasoning. 
Nutmeg- Jaiphal
Nutmeg is a mild baking spice. This is used in sausages, meats, soups, as well as some preserves. Nutmeg can also be used in the puddings and fruit pies. Nutmeg is more pungent and sweeter in comparison to mace.
Niger- Ramtil
Niger is used to treat high blood pressure and heart failure. This might even be prescribed after a heart attack. This also lowers the chances of having a heart attack or stroke.
Nigella Seeds- Kalaunji
Nigella seeds adds a herby-oniony flavor to all sorts of dishes. You can try sprinkling them over salad, vegetables, or fish. You can also add them to rice pilaf, lentils, and chicken or lamb braises. If you want, you can add this oniony, aromatic seeds to everything starting from from baked goods to potatoes, pilaf, and braises.
This has been widely used as antihypertensive, digestive, diuretics, liver tonics, anti-diarrheal, anti-bacterial, analgesics, appetite stimulant and in skin disorders.
Mustard Seeds- Sarso, Rai
These are used in Asian dishes and help in adding spice and flavor to the cooked dishes. There are several Indian preparations where the mustard seeds along with other spices and condiments are heated in clarified butter or oil. After that they are added as the final flavouring once the dish has been prepared. This is rich in antioxidants. 
Fenugreek Seeds- Methi Beej
Fenugreek seeds reduce the various digestive ailments that include the heartburn, upset stomach, flatulence, and indigestion. This also reduces cholesterol levels and improves the heart health.
Mace – Javitri
You can take Mace by mouth for diarrhea, stomach spasms, vomiting, nausea and pain, and intestinal gas. This also helps in treating increasing menstrual flow, kidney disease, cancer; causing a miscarriage, and as a hallucinogen.
Long Pepper- Pipli
Indian long pepper is used to improve appetite and digestion. This also treats stomach ache, indigestion, intestinal gas, heartburn, diarrhea, and cholera. This is also used to treat certain lung problems including asthma, bronchitis, and cough. 
Liquorice- Mulethi
This was used traditionally for treating a variety of conditions that includes lung, liver, circulatory, and kidney diseases. Today, this is also promoted as a dietary supplement for treating certain conditions such as digestive problems, menopausal symptoms, cough, as well as the bacterial and viral infections.
Madder- Majith
Madder is a plant. The root is used to make medicine. People use this for treating certain conditions like the kidney stones, urinary tract disorders, wound healing, menstrual disorders, and many others, but there is no good scientific evidence to support these uses.
Ginger Powder- Adrak Powder
If you eat ginger, this will help you to cut down on the fermentation, constipation as well as the other causes of bloating and intestinal gas. Ginger contains Antioxidants and this helps in preventing the wear and tear of cells.
Gallnut- Majuphal
Gallnuts have been used as traditional medicines for various body disorders, as an astringent in painful haemorrhoids, and also as an antichloristic for inflammatory conditions. This is also used as a treatment for diarrhoea and dysentery, and is also a great remedy for toothache and dental issues.
Flax Seeds- Alsi Ka Beej
Flaxseed is used when someone suffers from constipation, swelling of the kidneys, high cholesterol, obesity, as well as diabetes in people with lupus. 
Fennel Seeds- Saunf
Fennel Seeds give a sweet licorice-like taste and flavour to the food . People also chew plain or sugar-coated fennel seeds after a meal. Chewing fennel seeds improves digestion and prevents fluctuation. 
Dry mint- Sukha Pudina
You can use the dry mint powder in cooked dishes such as dal and curries. Heat often tends to diminish the flavor quickly and the mint powders are often used raw or are added to the dish right before serving. Mint powders can also be used to make cool refreshing drinks like jaljeera 
Dry Mango Powder- Amchur Powder
This renders flavour to soups, curries, dal, chutneys, and prickles, stir fry vegetables and fruit salad. You can sprinkle the dried powder on dishes like chicken, fish, tikka, and stew and this will add some zest and tanginess. You can also use this spice in continental cuisines like grilled fish.
Dry Gooseberry- Sukha Amla
Dry amla fruit is considered to be a cardio active medication since traditional times. Amla decreases cholesterol levels. It also prevents the building up of bad cholesterol and also reduces triglyceride levels that might otherwise be a risk to heart health. One of the best benefits of amla is that it has very high fibre content that is good for the digestive system. This also cures constipation. This is a great home remedy for hyperacidity and stomach ulcers.
Dry Fenugreek leaves- Methi ke sukhe patte
Fresh and dried fenugreek leaves can be used in sauces, curries, vegetable dishes, and soups. Fenugreek seeds can be used whole or ground and you can also use these in spice blends such as garam masala, panch phoran or even dry rubs for meat.
Dry Coconut powder- Nariyal ka burada
Coconut milk powder has lauric acid in it. Lauric acid is very good for the immune system. This acid has both anti-inflammatory as well as antimicrobial properties. This is also found in human breastmilk and that is why it is so good for brain development and immunity
Curry Leaves- kari patte
This is a powerful antioxidant that helps in reducing the cancer. This also helps in reducing the risks that are associated with the heart disease. These also reduces the risks of the heart diseases and helps in diabetes management. You can also use curry leaves if you are suffering from stomach ailments. This has neuroprotective effects and also helps in morning sickness.
Cashew Nut- Kaaju
People also use the cashew to make medicine. Cashew is used for patients suffering from diabetes, high cholesterol, heart disease, stomach and intestinal ailments, skin problems, and other conditions. 
Celery salt- Ajmod Namak
You can use the celery salt in place of the normal salt in almost any savoury dish. This will add an extra layer of flavor and subtle seasoning. Celery's recognizable taste also complements those dishes where a lot of onions or carrots are used.
Cayenne Pepper- Tez lal mirch
This is used in its fresh form, or you can also use this as dried powder on seafood. You can also use this powder on the different types of egg dishes that include devilled eggs, omelettes, meats and stews, curries , casseroles, and , cheese dishes. 
Cream of Tartar- Shodhit Argal
This is used for stabilizing egg whites in meringue. This also helps in  retaining color in steamed and boiled vegetables, replaces buttermilk in certain recipes and also helps in making homemade doughs.
Dill prickle- Kakri ka achar
Dill is a versatile herb. You can use this in several dishes, that includes potato salad, tzatziki sauce, or fish. You can also use these as a spice to flavor foods like pickles or bread.
Ani Seeds- Saunf
Anise is used to flavor food categories that include alcohols, liqueurs, dairy products, meats, gelatin, puddings and candies. This is also sold as a spice. You can use these seeds as a breath freshener. 
Garcinia Indica- Kokum
This is being used in the culinary as well as the industrial applications for a variety of purposes that include- acidulant in curries, pickles, health drinks, wine, as well as butter. This has also been used in traditional medicine that help in treating inflammation, dermatitis, as well as diarrhea, and it also promotes digestion
Mulling Spices- Maaling masaale
Mulling spices is a spice mixture that is used in drink recipes and also helps in flavoring dishes that include mulled wine, hot apple cider, wassail, and other drinks during the autumn or winter. 
Mustard Powder- Sarso ka powder
Mustard Powder has a pungent flavour. This is quite a popular condiment that is used for various dishes that include pickles and chutney, salad dressing as well as meat flavouring. To prepare mustard paste you will simply have to add water and this is used in hot dogs and pretzels. This is also used as an ingredient in vinaigrette, mayonnaise, barbecue sauce etc.
Hungarian sweet paprika- Laal Mirch
Hungarian sweet paprika is the best paprika to be used in the classic dishes like goulash, stuffed bell pepper, and cabbage rolls. It also makes a flavourful garnish that is appropriate for deviled eggs, potato or pasta salads, baked fish or chicken.
Red Pepper- Laal Shimla Mirch
This is ideal for Roasted Pepper and Butternut Squash Soup, Roasted Red Pepper Soup. Bell Pepper Chicken & Dill Soup, Mini Sweet Pepper & Orange Cranberry Muffins, Long Sweet Pepper Boats, Bell Peppers Stuffed with Tomato Couscous, Turkey Stuffed Bell Peppers, Bell Pepper Cornbread.
Star Fruit- Star phal
Star fruit boosts vitamin C, and also ensures that your body produces the right level of white blood cells for a strong immune system. This also provides you with an improved respiratory health, because this has anti-inflammatory potential and this can also help in soothing your sore throat.
Sea Salt- Samudra Namak
Some of the most popular ways that will help you to use sea salt include sprinkling it on roasted veggies, adding it to chocolate-based desserts, and using it to season steaks, burgers, and fish. 
Wattle Seed- Junglee Beej
This is a seed that enhances the flavour of the food. You can use the roasted and ground seed to flavour breads, muffins, desserts as well as muesli and pancake batter. You can also use this essence to flavour sauces and even beer and ales. 
Cilantro- Dhaniya
This is commonly eaten as a spice. You can also use this as a medicine. Cilantro is also used to treat cancer, measles, toothache, and several other health conditions.  
Coconut Powder- Nariyal Powder
You can use the coconut powder to cream up your curries and dals. This is also a great substitute for milk, morning Smoothies, pie baking and porridge. This is full of vitamins and minerals, including vitamin B6, iron, and potassium. It also has a very high electrolyte content that makes it ideal for sports drinks and also helps in maintaining hydration during exercise. This is also used as part of pre-workout regimens.  
Guajillo Chile Powder– Guaajilo Chilee Pauda
The Guajillo Chile Powder, when mildly heated, will be a great way to enhance the taste of your favorite chili soup, sauces, or salsa. 
Makrut Lime Leaves– Kaffir Lime
Makrut lime can be added whole to Thai curries, soups, as well as the stir-fries but you should remove them before you start eating this dish.  You can cut them into very thin slivers and add them to spice up the pastes. You can also use it as a topping in a variety of recipes.

Maple Sugar– Maipil Ka Chini
You can use the Maple sugar in recipes in the same way as cane sugar. It can be used to sweeten drinks, top oatmeal or you can also incorporate this into a flavorful rub for meats. When you use maple sugar in baking, it works similar to the regular granulated sugar and you can also cream it with butter and use it for cookies and cakes.
Marjoram- Kuthara
Marjoram is quite commonly used for common cold, runny nose, cough, other infections, and also various digestion problems. In foods, this is used as flavorings.
Jaggery- Gur
Jaggery helps in preventing the respiratory problems and also helps controlling blood pressure. This also helps in refining blood that also helps to fight anaemia. It helps in maintaining the intestinal health, detoxifies the body and  also helps you to prevent constipation. This also treats the menstrual cramps and it is used extensively in South India to balance the pungency of spicy foods. 
Pine Nuts: Chilgoze
Pine nuts are full of magnesium, zinc, iron, antioxidants, and proteins. These nutrients are good for heart health and brain health. This also helps in managing weight and diabetes. Pine nuts also help to maintain good eyesight. This is a nutritious snack that can be eaten either raw or roasted. You can also add these to salads, sprinkle it on top of hummus, and also blend it up as part of pesto and other sauces.
Raisins- Kishmish
If you eat raisins, it will help you to relieve constipation, keep bowel movements smooth, and also eliminates waste products and toxins from the body. These also bring instant relief in bloating, acid reflux, and flatulence. You can use these to top your salad, on mashed potatoes, chicken and salad sandwich etc. This can also be used as a substitute for chocolates.
Screwpine- Kewra
You can use Screwpine as a flavour for jams and chutneys. You can also use it to make paste that can be used in cakes and desserts. You can also wrap savoury dishes such as chicken and sticky rice with this.
Sichuan Pepper- Timur
Sichuan peppercorn can be used in numerous savory that includes meat, poultry, as well as noodle dishes. Ground, roasted Sichuan peppercorn is also used to make an infused Sichuan peppercorn oil. This can be paired with salt to make a flavorful Sichuan pepper salt that you can serve as a condiment with meat dishes.
Sultanas- Munakka
Sultanas should be eaten raw. These are used as an ingredient in nut mixes, bakery products, muesli as well as desserts. Sultanas are incredibly versatile and you can eat them alone, or you can also munch them as a snack or you can also add them to rice dishes, stews, salads, oatmeal and baked goods. Though there are very slight differences in size and taste of raisins, sultanas and currants. Each of these can easily be substituted for one another in similar dishes.
Sichuan Chilli
In Chinese cooking, Sichuan pepper is first toasted and it is then crushed or ground. This mutes the citrus flavors of the spice and heightens the woody notes. This pairs very well with meat. To toast the spice, you should add it to a dry skillet over medium heat. After that you will first have to stir it for about one minute, or till the time you are able to get the fragrance.
Vinegar- Sirka
Vinegar is quite a common ingredient for food preparation. This is particularly used in pickling liquids, vinaigrettes, and other salad dressings. This is also one of the ingredients in sauces, that includes hot sauce, mayonnaise , ketchup, and mustard. Vinegar is sometimes used in chutneys.
Water melon seeds- Tarbuj ke beej
Watermelon seeds make a great snack and also have several health benefits. They keep your heart-healthy and contain a mono & polyunsaturated fats and many minerals. Watermelon seeds can be a great substitute for certain nuts and seeds and therefore, this would be a great choice for people suffering from any kind of nut and seed allergies.
Swertia- Chirayta
The plant was traditionally used in the treatment of several ailments that includes bronchial asthma, heart diseases, anaemia, gastritis, fever, kidney and liver disorders, constipation, worms, ulcers, scanty urine, epilepsy mental disorders, dyspepsia, diabetes, blood purification, hypertension , and secretion of bile.
Gum Tragacanth- Gaund
Gum tragacanth has been used as a stabilizer, emulsifier, and it is also used as a thickener in food products. This has highly superior water-absorbing qualities that makes it an excellent thickening agent. 
Myrobalan- Harar
This was a tonic that regulated the bowel movement and acted as a gentle laxative in Traditional Ayurvedic Medicine. It has emollient properties and bitter principles. This encourage peristalsis and ensures proper digestion.
Cornflour- Araroot
This helps in thickening stews, casseroles, soups and also some sweet and savoury sauces.
Dyer alkanet- Laal jari
This is used to give colour to wines alcoholic tinctures and vegetable oils
Ajinomoto- Ajinomoto
This is widely used to intensify and enhance the umami flavors in broths, sauces, soups and many other foods. This is also quite a healthy alternative to table salt that contains just one-third the sodium. This is used throughout the entire world as it helps in bringing out the delicious flavor of foods.
Chia seeds – Sabza
Chia seeds contain quercetin. This is an antioxidant that help in reducing the risk of developing several health conditions that includes heart disease. The seeds also high in fiber. This can also help in lowering high blood pressure and, in turn, also reduces your risk of developing heart disease. 
Tarragon- Nag Dauna
Tarragon is used to treat digestion problems, menstruation, water retention, and toothache and poor appetite.  This also helps in promoting sleep. Tarragon is also used in the foods and the beverages as a culinary herb. 
Parsley Salt- Ajmod Namak
Parsley is widely used in foods and beverages as a garnish, condiment, food, and flavouring. You can also add this to soups, stews or vegetable dips as well as the salads.
Barley – Jau
Barley is commonly used in breads, stews, soups and health products. This is also a source of malt for alcoholic beverages, especially beer.
Walnut- Akhrot
Walnuts are mostly eaten as a snack but these can also be added to salads, pastas, breakfast cereals, baked goods, and soups. They're also used to make walnut oil — an expensive culinary oil that is very frequently used in salad dressings. There are very few edible walnut species
Linseed- Alsee Ka Beej
You can use the Linseed oil to make hummus. This can also be whisked into dressings for salads and can also be added to healthy smoothies. The whole linseeds go well with other grains in cereal, porridge, muesli and porridge. Linseed is also an egg replacement.
Lemon Salt- Tatri
You can use Lemon Salt to season the roasted or grilled chicken. This also adds flavor to your popcorn, brightens up the tomato soup, adds to a curry, enhance the taste of roasted vegetables, or even rim a cocktail glass. This can be used on fish, fries, and salads, too. There are many ways that you can use this to salt your cooking.
Dyer's Alkanet- Ratanjot
This is popularly known as ratan jot. This powder is obtained by grinding the root. This acts as a natural food colour. This has quite a vibrant and the red hue that also appears fiery hot but, it has a much milder taste in comparison to chilli powder. If you want to enjoy its benefits, you should fry a teaspoonful of this spice approximately for about 2-3 tablespoons in ghee or in warm oil.
Four Seeds- Charo Magaj
These are 4 ground seeds that are remarkably balanced mix of sunflower seeds, integral sesame, flax seed and pumpkin seeds. This mixture helps in reducing bad LDL cholesterol in the blood.
Indian Gooseberry- Sukha Amla
Indian gooseberries are used in cooking and they are also used in the herbal medicine in India and other Asian countries. There are many supplements made from this fruit and these have several potential benefits, that include the anti-aging, heart health effects , reduction of heartburn , and cancer prevention.
Conclusion
Spices are the backbone of Indian cuisine. We cannot dream of Indian food without spices. It relies heavily on the addition of a few spices or many spices. These spices are added to the food in little quantity while cooking. These add a ton of flavor to the dish, and there are also certain spices like cumin, carom seeds, fennel seeds that help in digestion. This is also one of the reasons as to why they are added to so many recipes to aid digestion. There are also few spices like green chillies or red chili powder that add some pungency and heat to the dish. How much spice will be added will depend on the dish. These might be either added to the food whole or in their powdered/ground form.