Many people across the globe learn English. According to an estimate by the British Council, 1.5 billion people are learning English. Now, the main problem comes into being when they don't get a suitable partner to practice English. This is quite common in a non-native country like India, where people use more vernacular language rather than a foreign language. To overcome this problem, we will be looking into different and smart ways to practice English without a partner.
1. Learn Quotes and Read Them Out Loud
Quotes are short lines written on a didactic theme. You may come across some interesting quotes every now and then while scrolling down your social media feed or while reading books. Pay adequate attention to that and try to read that quote aloud to understand the message that is being conveyed. This will enhance your understanding of the language and while reading it, you can have a good practice of speaking English sentences too.
2. Voice Recording
Using the advanced technology is another good way to have a sound practice. All of you might be well aware of the voice recording feature installed on your phone. This voice recording can be used quite fruitfully to ace your learning. Voice recording is beneficial in many ways, for instance, it helps you learn about your mistakes by replaying them. It becomes easy to check your progress this way. 
3. Poem Recitation
Do you remember those days when you were told to recite poems at school? What would have been the motive for doing so, according to you? The motive was to give you a practice of speaking sentences in a flow. The same is the case here too, search for poems that suit your interest and read them out aloud in a room. Reading will train your brain better and make you fully aware of your diction. This is how you learn and take a step ahead to speak English fluently. 
4. Talk to Yourself
While learning something, we brainstorm ideas or think of something relevant. What if we do the same activity aloud by talking to ourselves? This will make our task even easier; especially when we are learning English by ourselves and there will be no sense of fear which will disturb us too. Now, there are many other things that you can talk to yourself about like you can narrate an incident, ask a question to yourself, or even advance arguments against things that disturb you. This activity is quite helpful and would eradicate all the fear attached to speaking. The only need is to follow this quite frequently to get a good result.
5. Follow English Speakers and Teachers
Follow English speakers and teachers. Learn from those who speak English fluently and teach it too. They share tips on daily basis to help the learners. For example, if you only speak Hindi and want to learn English, you can Follow Awal Madaan's social media channels. Being an inspiring personality, Awal sir teaches English in Hindi so easily with different easy to understand examples, daily sentences; he also explains different English grammar topics with Hindi explanation in detail and what not.

6. Watch Movies in the English Language with Subtitles
One of the smartest ways to learn English easily without anyone's help is watching English movies withy subtitles so that you can understand the accent and words well and also improve your listening and speaking skills simultaneously on your own without anyone's help.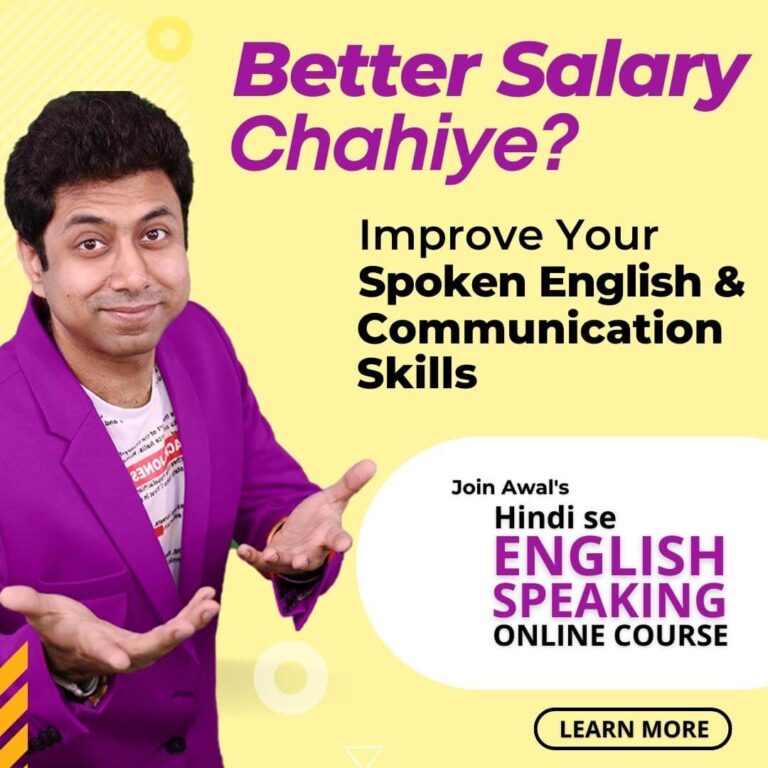 7. Express Yourself in front of a Mirror
How often do we look in the mirror to check our outfits or to look at which hairstyle suits us the best? The mirror can also be used in some other way. It can be used to see how you present yourself in front of others. You might have heard from someone that hand movements show your confidence and make you look more presentable. All these can be easily monitored when you look into the mirror and speak something, be it a poem or a story. Do try this, it will help you a lot.
8.  Speak about Whatever You See Around
Don't you share about weird incidents you come across, with your friends and family? Often this can be done alone too, for practice. For example, you saw something strange in the way while walking or driving. For practice, what you can do is after you come back home narrate the same incident to yourself in English. Doing this would put the thoughts in your mind at work and thereby make you speak English in a flow.
9. Be an Extrovert
Do you like mingling with people? If not, please start mixing up with people, share your thoughts, give your opinions, etc. It is through this you will know new ways to present yourself better. Being a quiet person is good but it doesn't work well when it comes to expressing yourself. Extrovert nature will help you to open up with people and the fear instilled in your mind would fade away with time.
10. Learn Diction from Native Speakers
Diction plays a very significant role in using a language. It is so because it helps others to comprehend better. The diction can be improved only by listening and practicing. Native speakers have good diction because of their practice. The same can help you too when you listen to people you should look at how they pronounce words and phrases. The same should be copied in real-time practice too. Analyze your progress report and see how far you have reached and what efforts would it take to reach your desired goal.
Conclusion
After having gone through the above-mentioned tips and methods, what do you think will be more suitable for you? The answer to this depends on you. All the choice rests upon those areas where you are weak. Is it the way you express yourself that disturbs you or is it the fear which you have in mind which is preventing you from speaking sentences? 
Koi bhi process ko follow karne se pehle aapko ye jaroor dekhna chahiye ki kon sa process aapko sabse jyada madad karega. Apni kamiyon ko nikalna, aur unpar kaam karna sabse jyada jaruri hota hai. Khamiyan jaise ki bolne mein hesistation hona, shabdon ko galat pronounce karna, sahi se ek sentence nahi bana pana, etc. In saree kamiyon ko door karne ka ek hi tarika hai jyada se jyada practice karna. Practice kaise karna hai ye maine aapko kaafi vistaar mein kuch methods ke jariye bata diye hain. In sab mein se sabse aasan method aapko jo bhi lage unhe aap follow kar sakte hain aur apni practice ko aur acche level par leke jaa sakte hain.
Practice is the key to attaining fluency in English. Keeping this in mind we have designed a module where you get a very conducive environment to express yourself and make your way to speak English fluently. Join the  Awal's Gold course and experience learning with new innovative ways and interesting techniques.